Back Top 10 things to see and do in the Cider Shire
The 10 most interesting things to see and do in the Cider Shire
The Cider Shire has everything for a healthy life: sea and mountains, villages, history, art, museums, gastronomy and excellent people.
September 2023
The Cider Region has it all for a healthy, relaxed, and enjoyable life: sea and mountains, coastal towns and hidden villages, abundant history, Romanesque and pre-Romanesque art, unparalleled natural spaces and landscapes, museums, hiking trails, several Exemplary Villages, and even the Camino de Santiago passes through its heart.
Comfortable to explore and with everything close at hand, a stay or a stroll through the Cider Region will leave you with a feeling of fulfillment, as if you couldn't ask for more...
So join us to discover the top 10 things to see and do in the Cider Shire!
Llastres and Tazones, two exponents of beauty Made in Cantabria
These are two of the most attractive fishing villages along the entire Cantabrian coast, as evidenced by the fascination they exert on locals and visitors alike. Both Lastres in Colunga and Tazones in Villaviciosa are famous not only for their appearance but also for their atmosphere and excellent seafood cuisine, often accompanied by cider, which you can taste in their many and varied dining establishments.
But both also have a rich history, which has often turned them into literary protagonists or the setting for film and television productions. Tazones inscribed its name in European history as the port where the Emperor Charles V first set foot on Spanish soil, and to commemorate this feat, a historical re-enactment is held every year in this town and in Villaviciosa, at the end of August. It is also a festival that has been declared to be of Tourist Interest. And as if this were not enough, Tazones holds the title of Most Beautiful Town in Spain.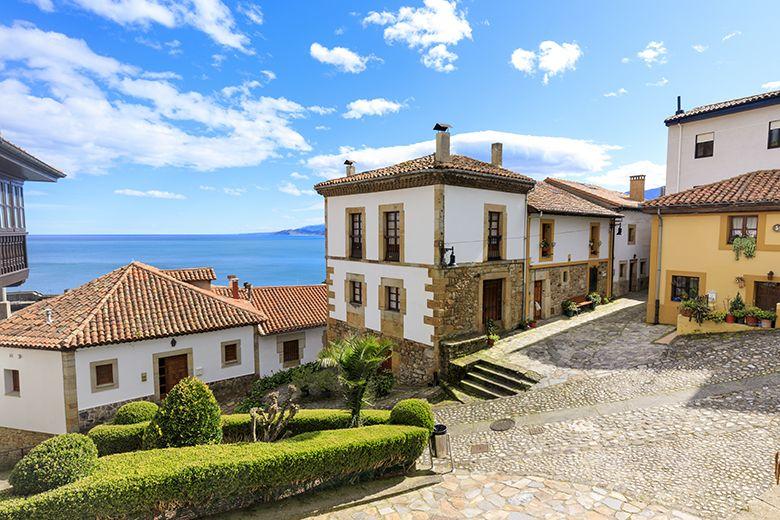 Llastres, which was the setting for the television series Doctor Mateo, also deservedly holds the title of Most Beautiful Town in Spain, and there are many places, such as the San Roque viewpoint, the parish church and its beaches, that will make you fall in love with this great balcony overlooking the Cantabrian Sea, Mount Sueve and the Picos de Europa. Furthermore, this fishing village was named Exemplary Town of Asturias in 2010.
Unique beaches such as Rodiles and La Griega
The Cider Shire has some marvellous kilometres of coastline, with beaches and cliffs to delight all five senses.
Some of them are truly emblematic, both for the natural setting in which they are located and for the natural and palaeontological heritage they treasure.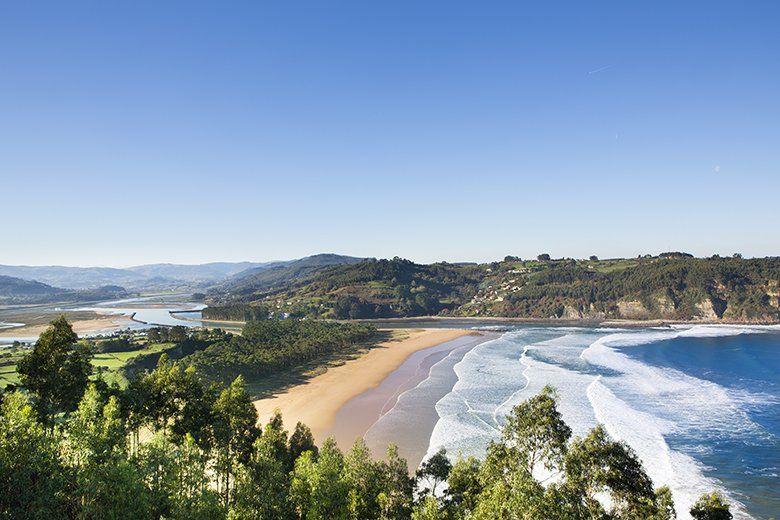 One of these wonderful beaches is Rodiles, surrounded by forest, cliffs with lush vegetation, and kilometres of promenade around the sandy area and the banks of the Villaviciosa estuary, whose mouth borders the beach. But Rodiles is also known among surfers from all over the world for the quality and characteristics of a unique type of wave, which generates the unique ecosystem of its seabed.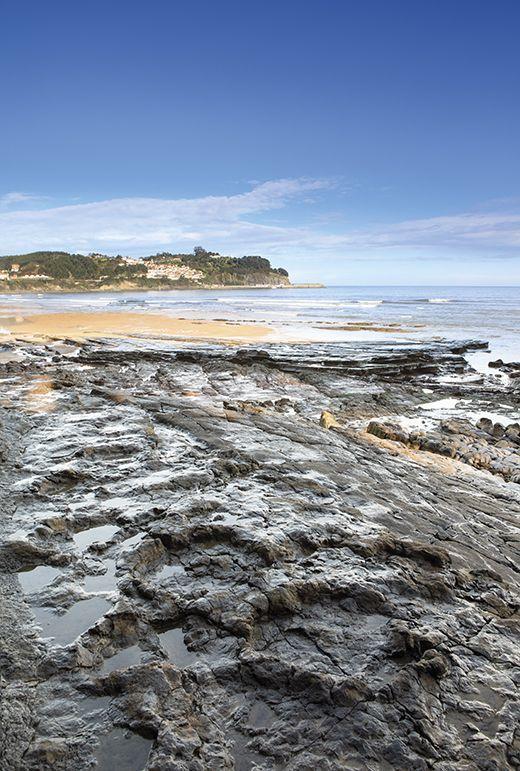 Another of these unique beaches is La Griega, in Colunga, where in the 1970s the eminent Asturian scientist José Carlos García Ramos identified the first fossils with dinosaur footprints on the entire Cantabrian coast, and in this part of Western Europe. Since then and with the passing of time, La Griega, as well as being a marvellous sandy area with a river, has become a place of natural and scientific interest.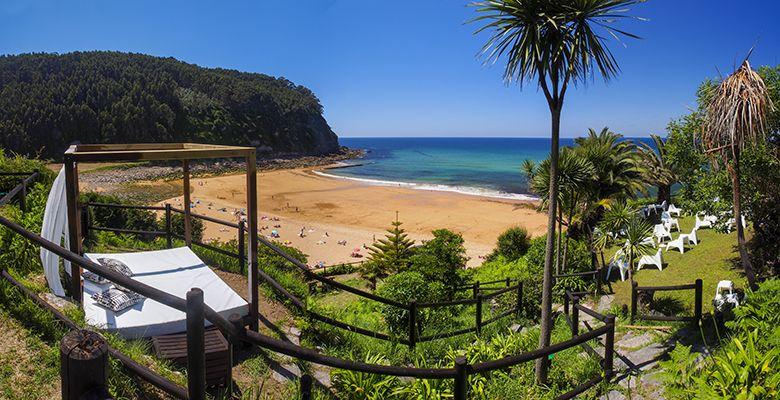 But obviously, they are not the only ones that will captivate you: the Spain Beach or Merón Beach in Villaviciosa, or La Isla Beach in Colunga, are beautiful sandy beaches that will satisfy your craving for the sea.
Historic Old Towns with many stories
Both Villaviciosa and Colunga, both capitals of the councils of the same name, are two places with tradition, due to their antiquity and the many stories that the passing of time has woven in them.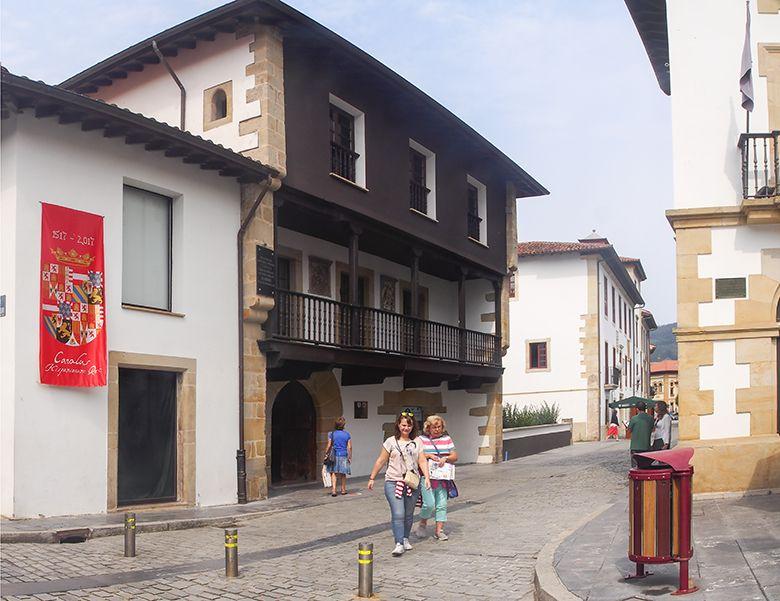 The historic quarter of Villaviciosa is a continuous discovery: Renaissance palaces, emblazoned houses, convents, marvellous churches, old schools, market square... A historic quarter as complete as it is unexpected, where the imperial mark of Charles V is omnipresent: a bust in a beautiful square with palm trees, the Casa de los Hevia - where the emperor spent the night and where the room in which he slept is preserved -, or some street names, or hotel names, that recall the unexpected royal visit.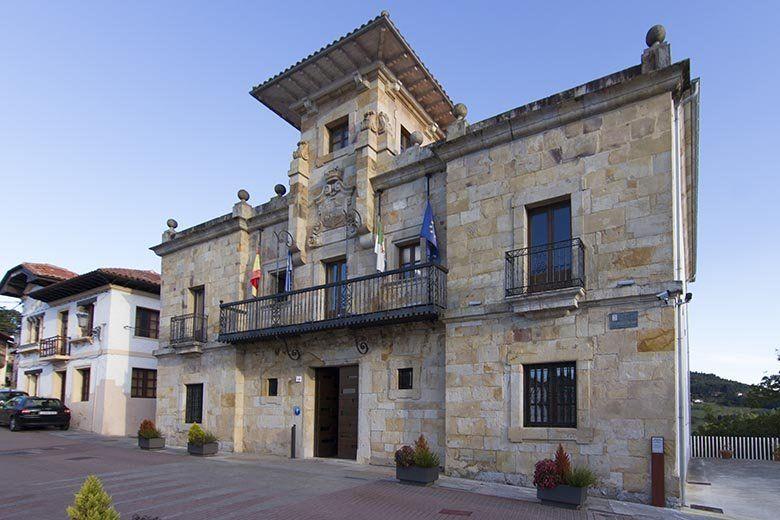 For its part, Colunga is a stately town that preserves abundant examples of traditional Asturian architecture, as well as emblazoned mansions and palaces from the Indianos. The essence of Colunga is a mixture of medieval manors, reminiscences from overseas, seafaring life, stories of pilgrims and also of illustrious figures born there, such as the illustrious biochemist Francisco Grande Covián, who has a bust and palatial house in the centre of Colunga.
Exemplary Towns that will surprise you
In the Cider Region, all kinds of goodness abound, and you will realize it as soon as you explore it. And it's precisely in this abundance of goodness that its Exemplary Villages fit perfectly.
The town of Nava was an Exemplary Village in 1996. Sariego received this honor in 2006. The town of Lastres in Colunga became an Exemplary Village in 2010. And two equally idyllic villages also received this notable award: Torazu in Cabranes in 2008, and Poreñu in Villaviciosa in 2017.
Both are beautiful, both for their vocation for the preservation of ancestral and very Asturian traditions (mainly recreational-festive and gastronomic) and for the serenity of their landscapes, secluded and friendly, perfect for a quiet getaway. Moreover, Torazu also has the distinction of being the most beautiful village in Spain.
But in addition to these Exemplary Villages, there are others as beautiful as Piedrafita, in Villaviciosa, or Ceceda/Cecea, in Nava, to cite just a few examples.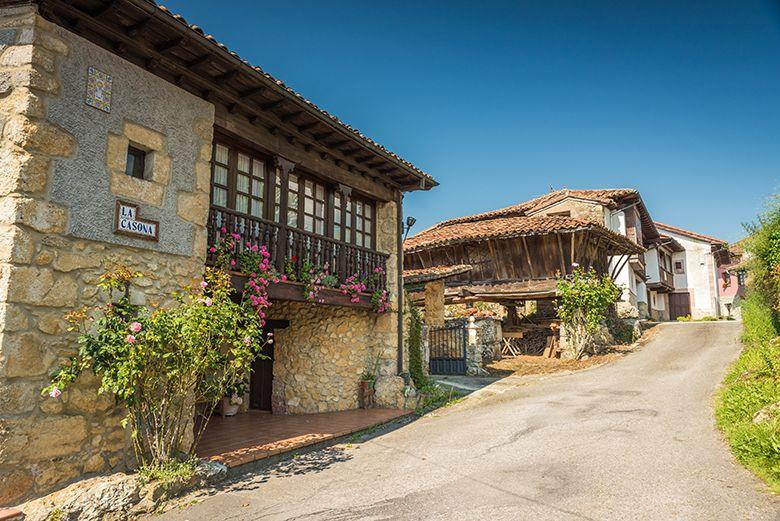 A very cidery Way of Saint James
The Camino de Santiago is one of the cultural pillars that shapes life in the Cider Region, as it passes through three of its municipalities: Colunga, Villaviciosa, and Sariego.
It could be said that in this part of Asturias, the Pilgrim's Way becomes very cidery. Once you have crossed the council of Colunga, the route enters Villaviciosa, passes near Valdediós, and once you have reached the Alto de la Campa, with its beautiful views of the Villaviciosa estuary, the Sierra del Aramo and the Sierra de Peñamayor, it enters the peaceful and beautiful valley of Sariego, taking you to villages such as Figares, with its old granaries; Pedrosa, with its fountains and washing places, and Carcabada, until you reach Vega, the capital of the council.
In Sariego you will fully experience the atmosphere of the oldest Pilgrims' Route to Santiago de Compostela, and you will feel your steps accelerate towards the Cathedral of El Salvador, in Oviedo/Uviéu. But you can also visit the Cave of San Pedrín, in Narzana, a natural cave of singular beauty.
Captivating routes in the heart of nature
La de la Sidra is a very rural region. For this reason, there are many villages, paths, mountains, valleys, meadows, rivers, mills and mountain ranges that make up a very attractive natural setting for hiking and other activities.
Some of these routes pass through places of great beauty, which means a total immersion in the natural environment.
This is the case, for example, with the Mills Route - between La Llera and Molín de Honorio - in Bimenes. Or the one that goes, in the same municipality, through the village of Melendreros to the antennas of the Sierra de Peñamayor.
Another wonderful route is the one through the Pendon River gorges in Nava, which can be started from Fuensanta - where the water factory and former spa are located. You can even reach Les Praeres, a spectacular meadowland near the Sierra de Peñamayor. Moreover, the ascent to Les Praeres, which was one of the legendary stage finishes in the Vuelta a España, is an ideal challenge for the boldest cyclists.
In short, they are all routes designed to enjoy the natural environment, in total peace and quiet.
Museums that won't leave you indifferent
The Cider Shire is also a land of museums. Different, entertaining, educational and instructive museums.
Museums that bear witness to the rich apple-growing and cider-making tradition of the area, such as the Cider Museum in Nava. Additionally, you have the advantage of the option to see a cider press in action, as some of them are open to visitors.
Museums such as the Rural School, in Cabranes, which will show you what school life and teaching was like in the early and mid-20th century in Asturian villages.
Or the Casa de les Radios, in the village of Suares, in Bimenes, where lovers of the airwaves can enjoy an impressive collection of vintage radios, in a space full of light and exceptional views.
In the coastal area, the Jurassic Museum of Asturias in Colunga, specifically in the San Telmo promontory (very close to Lastres), delights both young and old with its life-sized replicas of dinosaurs located outside the museum, as well as the activities and scientific content of a facility in a privileged location, overlooking the Cantabrian Sea.
A unique Pre-Romanesque Art
The history of the pre-Romanesque Church of San Salvador de Valdediós in Villaviciosa is simply fascinating. With a humble appearance and modest proportions, also known as the Coventín, it stands serenely in a deep and spectacular valley, visible from many angles and surrounded by woodlands.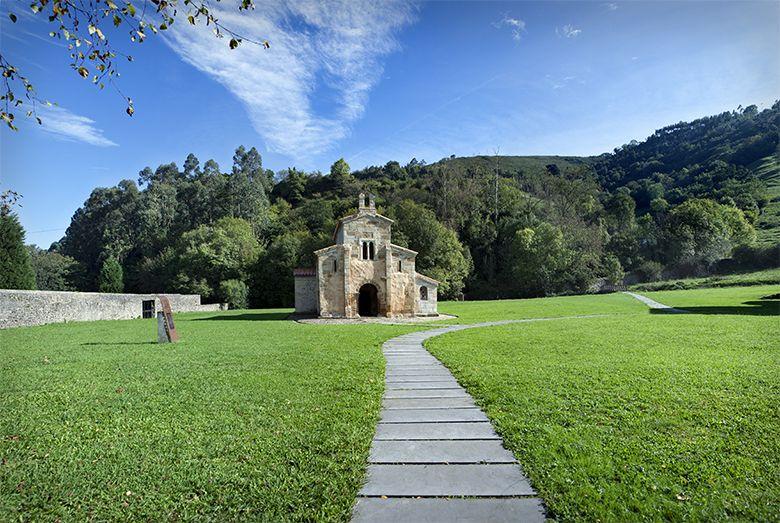 It is possible that it was the church of a summer palace complex, linked to the Kingdom of Asturias, and its construction is attributed to King Alfonso III, and it is even known that its consecration was a great event, according to some lapidary inscriptions.
The valley, the church and the Romanesque monastery in the surrounding area form a magical circle...
Sublime jewels of Romanesque art
The Cider Shire has some of the best examples of Asturian Romanesque architecture.
They are authentic monumental and historical gems, mainly located in the council of Villaviciosa. One of them is the Church of Santa María de la Oliva, the gateway to the old quarter of the capital of this council.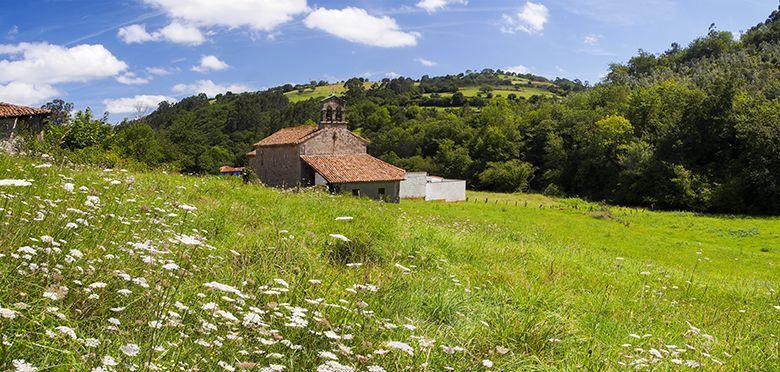 Other notable examples are the monastery of Santa María de Valdediós (the one next to the Conventín); Santa Eulalia de Lloraza; San Andrés de Valdebárcena; San Juan de Amandi; San Andrés de Bedriñana (which has abundant pre-Romanesque elements), or Santa María de Lugás, with a long tradition of pilgrimages.
Other outstanding examples of this rural Romanesque style are San Julián de Viñón, in Cabranes, and Santa María de Narzana, in Sariego.
They are churches with many centuries of history, all of them (except La Oliva) in secluded and peaceful villages, where time seems to have stopped waiting for your visit...
A Nature Reserve in liquid form
The Villaviciosa estuary is a refuge for birds, and its maritime-fluvial ecosystem stands out for its purity. It is also an ideal setting for water sports, or for walking along some stretches of its banks.
You will be in the presence of a true paradise in liquid form.
And if you want accommodation you can get it easily in our section of Online booking!