Back Top 10 things to see and do in the Oscos-Eo Region
The 10 most interesting things to see and do in the Oscos-Eo Region
The Oscos-Eo region embodies the essence of western Asturias, and offers you a thousand landscapes and plans to enjoy your best leisure time.
September 2023
The Oscos-Eo Region embodies the western essence of Asturias. Its status as a border territory with Galician lands gives it that multicultural touch of the northwestern Iberian Peninsula, making it even more exotic and unique.
Of the 7 Biosphere Reserves in Asturias, it is the only one with a coastline, and what a coastline it is! It is adorned with beautiful cliffs and beaches, such as Penarronda, which not only delights swimmers and tourists but also captivates pilgrims walking the Coastal Way.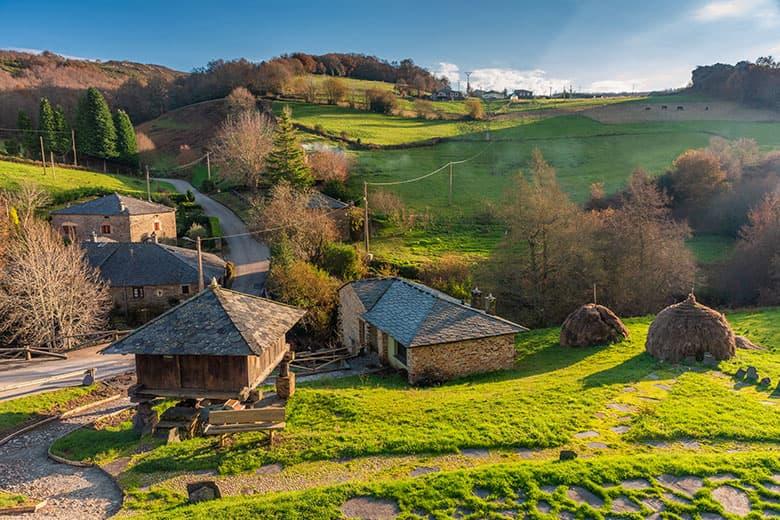 But this region not only treasures natural and scenic beauties, in the form of ports, mountains, valleys, trails, rivers, and waterfalls, to name a few. It is also a significant cultural reserve: mills and ironworks, museums, palaces, monasteries, cutlery craftsmanship, and weaving... A whole world of traditions that has reached the present with competence and good health, allowing you to fully enjoy a universe of unique moments and experiences.
Join us on this fascinating journey through the top 10 things to see and do in the Oscos-Eo Region!
Two fishing villages linked by a promenade
The Oscos-Eo Region boasts two coastal towns that rank among the most beautiful in the entire Cantabrian region. They are Figueras and Castropol. Both are characterized by their stately houses and palaces, winding streets, seaside taverns and restaurants, marinas, and views of estuaries and the sea.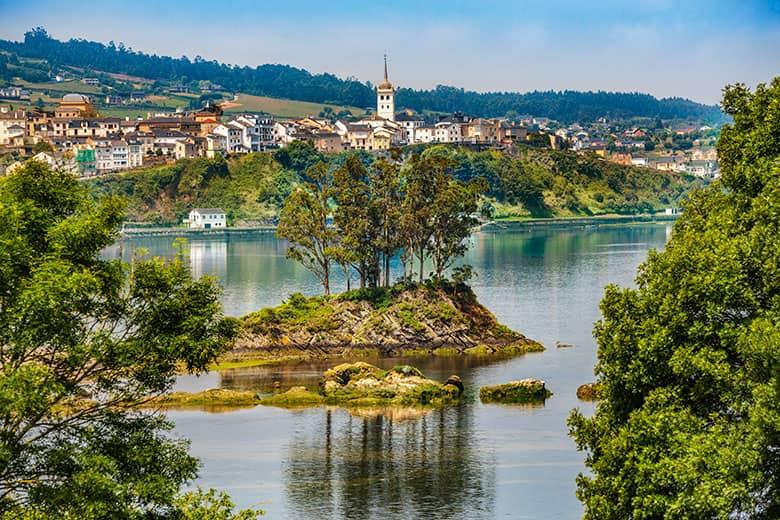 An ideal option to explore both towns is to take a stroll along the coastal promenade that connects them. It spans eight comfortable kilometers, with the added allure that you can return by boat, allowing you to savor even more of the many charms and corners of the always surprising Eo estuary, which is also a natural reserve and a unique spot for birdwatching.
Oysters from the Eo, ecological where there is none
The Eo oysters are incredibly delicious, and they are undoubtedly one of the must-try delicacies in this region. It's no coincidence that they are so flavorful; both their cultivation methods and the location where they are grown contribute to their special quality.
They are cultivated in sacks anchored to tables located 150 meters from the shoreline, which emerge when the tide goes out and are manually flipped at low tide. This way, part of their life occurs out of the water, which makes their muscles more vigorous and allows them to stay fresh for a longer time. This is explained by Eduardo Martín, a biologist and founder of the Acueo company, which ecologically cultivates this marine delicacy within the Natural Reserve of the Eo estuary.
The company itself has a small terrace where you can enjoy them while you contemplate the estuary and its wide inlet, as well as the town of Figueras, while listening to all the details about their cultivation.
Pleasure of the gods!
A deck and a route
One of the most popular and pleasant routes in this region is the one to the Meredo watermill in the Vegadeo municipality. The route begins in Piantón, a charming village that was once the capital of the municipality, and we recommend taking a stroll through the square and visiting the church.
Once you cross the Roman bridge, turn left and head towards Arcilo. From now on you will be accompanied by the forest and streams.
From Arcilo, you will go to Cobre and from there to Meredo, where you will descend until you reach the mallet.
There, you can recover your strength in the recreational area, while you learn a little more about the tradition of iron and the energetic use of the power of water, through the set that makes up the mallet and the mill.
A picturesque route and an idyllic location, where your travel companion is the Suarón River, a tributary of the Eo. Additionally, you'll pass very close to the Sestelo mansion and have excellent views of the valley, enjoying a very cultivated landscape of meadows and farmlands.
A simply unforgettable ride!
A visit to the farm
You can experience the life of a real farmer. In this region, it's made quite easy thanks to Amaido estate, located in San Tirso de Abres.
It's a 12-hectare property divided into two halves: one contains the native forest, where Bermeya goats and Celtic pigs coexist, while the other half features a Rural House, a rural campground, and 4 wooden cabins, alongside a range of organically certified agricultural crops, an orchard of organic cider apples, Xalda sheep, spotted chickens, geese, ducks, ponies, and more, as well as a restaurant.
Amaido is a harmonious ensemble that allows you to discover rural life and the peasant worldview in a friendly everyday environment. Here, you can participate in workshops involving seasonal tasks such as planting and harvesting, or learn to make bread, cider, take part in pig slaughtering, or join an amagüestu (a gathering to enjoy chestnuts, etc.). Or simply savor the diverse menu of flavors from the land at the restaurant.
An exciting experience indeed!
A paradise of sea and river beaches
The coastline of the Oscos-Eo Region is particularly remarkable for its beaches and cliffs. From the mouth of the Eo estuary itself, with its various beaches, to expansive and beautiful sandy stretches like Penarronda in Castropol, the coastal area of this region will provide you with plenty of joy in the form of refreshing swims, sun, sea, and coastal hiking trails.
But not only will you have seaside beaches, but this region, where rivers and streams are omnipresent, also treats your senses with charming and beautiful river beaches like Ferreira in Santa Eulalia de Oscos. Here, in addition to having a recreational area, you can rent touring canoes for leisurely and easy rides on the reservoir.
So you can choose between the sea and the river!
Refreshing waterfalls
In the Oscos-Eo Region, water is very abundant, so it's not surprising that you can find some of the most beautiful and refreshing waterfalls in Asturias here.
These are often idyllic spots that you discover along a hiking trail or serve as the glorious finale to a leisurely stroll. As an example, here are four instances.
The Cioyo Waterfall in Castropol is an unparalleled gem. To reach it, you'll embark on a somewhat challenging hike that turns into an almost magical adventure through forests, rivers, and waterfalls until you discover the grand cascade, which resembles a refuge for mythical creatures.
On the other hand, the A Salgueira Waterfall is one of the delightful surprises along the Ruta del Agua (Water Route) in Taramundi. Along a comfortable circular route of about 13 kilometers, you'll immerse yourself in the world of hydraulic devices, surrounded by chestnut and oak forests, and fairy-tale villages like Os Esquíos or As Veigas.
A Seimeira, located in Santa Eulalia de Oscos, is another of the water gems in the Oscos-Eo Region. With its thirty-meter drop, it will leave you in awe. Equally impressive is the journey to reach it, starting from the village of Pumares, with the Agüeria River as your companion, and passing through marvelous riverside forests. Ancadeira and the Valley of the Exiled are other places that will mark your path to A Seimeira.
They say that the Morlongo Waterfall in Villanueva de Oscos is one of the most beautiful waterfalls in Asturias, and it has the advantage of being easily accessible with a short and easy walk. In reality, it's an ideal natural space to enjoy a day of relaxation in the healthiest and most peaceful way. So, as you venture into Los Oscos through the Garganta Pass, you'll come across it almost right by the roadside.
You can also enjoy other options to cool off in the Oscos-Eo Region with swimming pools set in spectacular, natural, and healthy environments, such as the one in Santalla (pictured, but closed in 2022), as well as the pools in Taramundi, San Martín, and Villanueva de Oscos.
The Oscos-Eo Region is indeed ideal for staying refreshed!
The county of a thousand routes and paths
The Oscos-Eo Region is truly a magical place, and a significant part of this magical universe consists of its numerous trails and paths, which seem to multiply like the biblical loaves and fishes...
For this reason, there are many diverse routes to explore in Oscos-Eo, and each of them combines natural and cultural elements that will truly resonate with your heart.
One of them is the Taramundi Water Route, where once again "magic" is the word that best describes it. Here, you'll discover gallery forests, and along paths and small roads, you'll reach ethnographic gems like O Mazonovo and Os Teixóis. The Salgueira waterfall and the enchanting village of As Veigas complete a unique journey.
The Forcón de los Ríos route in Santa Eulalia de Oscos is another one of those memorable trails where nature and ethnography go hand in hand. It starts right next to the cultural center of Santalla, heading towards Millarado, passing through forests and encountering some farmhouses along the way. After passing through As Poceiras and continuing through mountains and rivers, you'll reach the confluence or "forcón" of the Villanueva and Barcia rivers, and it's precisely this place that gives the route its name. After visiting emblematic villages like A Valía, Caraduxe, or Ferreirela de Riba and de Baxo, you'll return to the municipality's capital.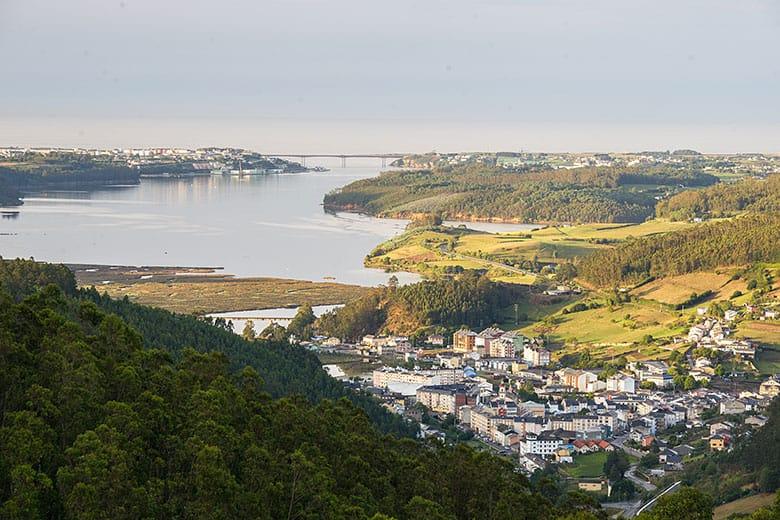 On the other hand, the Estraperlo Route in Vegadeo offers a perfect blend of the clandestine spirit of smugglers and the spiritual Bohemianism of pilgrims. This route, starting in Louteiro, follows a path formerly used by Jacobean pilgrims and smugglers who avoided the main roads to transport goods from Galicia to Asturias. The trail runs along the Eo riverbank, allowing you to enjoy the flora, fauna, and incredible landscapes. In Abres, you can still find docks, and in A Sela de Murias, an old inn that welcomed pilgrims and muleteers. In the final stretch to Louteiro, a forest and a green carpet of shrubs will accompany you to the end of the road.
And, of course, this region actively witnesses the life of the ultimate cultural and spiritual itinerary: The Camino de Santiago. For over a thousand years, the Camino de la Costa has been passing through the lands of Castropol, Vegadeo, and Abres to guide pilgrims directly to Compostela.
Enjoy the thousand paths and trails of Oscos-Eo!
The universe of the ferreiros
The Oscos-Eo Region could easily be called the paradise of blacksmiths. Both Taramundi and Los Oscos harbor places where you can find smithies and blacksmiths. These are magical places where people live a simple and healthy life, much like in the past.
In Taramundi, you mustn't miss Os Teixóis, an old hamlet that boasts numerous hydraulic devices, all of which still operate just as they did centuries ago. So, from a water-powered hammer to a spinning wheel, and even the ironworks, you'll take a trip back in time with a single glance. Additionally, once in Taramundi, you can take advantage of the Ferreiros Route, which is only 6 kilometers long and takes you from the municipal capital to the village of Pardiñas, where you'll find the Cutlery Museum.
Los Oscos are another essential reference when it comes to the culture of blacksmiths, and you can experience it firsthand in a special place like El Mazonovo in Santa Eulalia de Oscos. Here, the new generations of blacksmiths reveal all the secrets of the craft of fire, just as they learned from their ancestors.
Monasteries and palaces steeped in history
This region is rich in historical and cultural heritage, and ample evidence of this can be found in the numerous manor houses, palaces, churches, and monasteries scattered throughout this territory.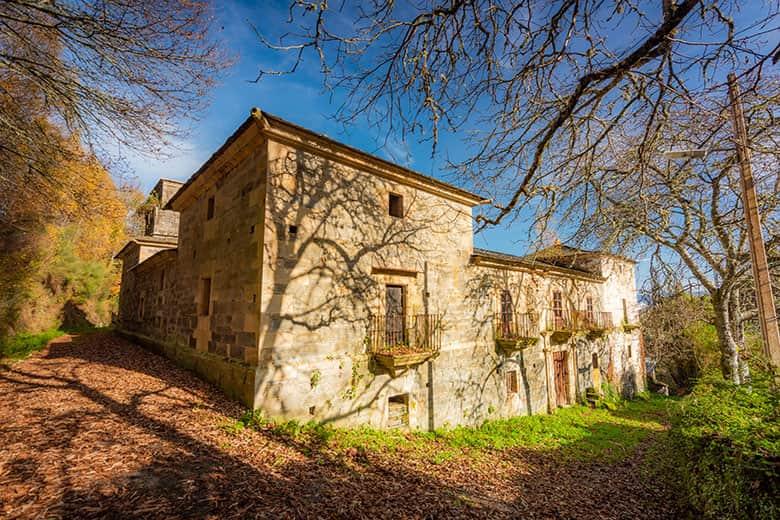 As a highly motivating suggestion, we invite you to explore the Mon Palace and its route in the municipality of San Martín de Oscos. This route begins in the village of A Revoqueira, very close to the municipal capital, where you can admire well-preserved examples of traditional architecture and see pastures with livestock. Then, you'll venture into the native forest until you reach Mon, where you'll be captivated by the majesty of its palace, one of the finest examples of baroque and manorial architecture in Asturias. You'll also visit the chapel of Santa Marina and the secluded Mon Water Hammer. In this area, you'll be enchanted by the surroundings of the Ahío River, characterized by its riverside forest.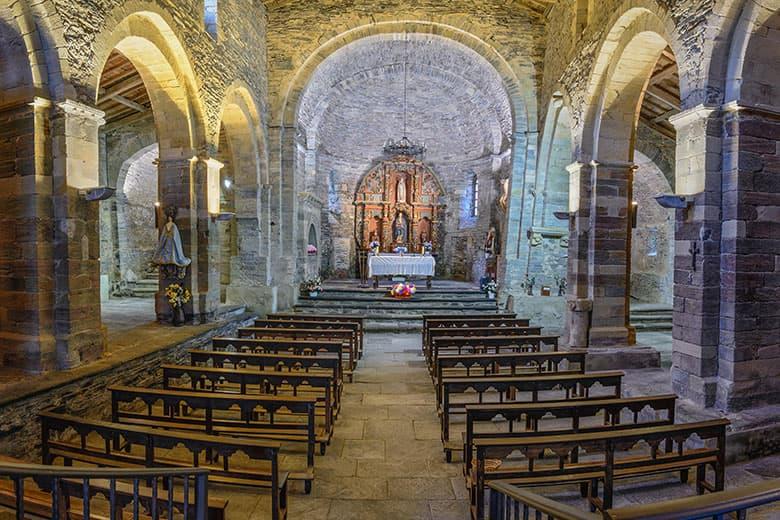 And, of course, you can't leave Los Oscos without visiting the Monastery of Santa María de Villanueva de Oscos, a gem comprising a Romanesque church facing north and a beautiful courtyard with a southern orientation. Built in the 12th century, it was initially occupied by the Benedictine order and later by the Cistercians. Over time, it was remodeled and expanded, especially in the 17th and 18th centuries. Today, it is primarily used for cultural purposes, and its powerful presence gives Villanueva an air of mystery and legend.
And as you approach the coast of this region, you can – in this case, it's better to use a car – take a look at the Palaces Route of Vegadeo, where you'll find fascinating buildings such as the Casa del Rego from the 17th century in Piantón; in A Veiga (the capital of the municipality), you'll encounter the 16th-century Lastra Palace and Valledor Palace; in the village of Vixande, there's Vixande Palace; and in Abres, you'll find Pividal Palace with its crenelated tower and chapel.
A lot of history awaits you in this region!
Museums, crafts and a wide range of activities
The Oscos-Eo region is truly a unique museum territory, with facilities where you can engage in a variety of activities and explore worlds from another time.
In Taramundi, you'll find the Mazonovo Mills Museum, located in a beautiful setting on the banks of the Turía and Cabreira rivers. Here, you can see 18 mills and immerse yourself completely in the world of these powerful inventions. Also in Taramundi, specifically in the village of Pardiñas, you'll find the Knife Museum, where you can learn all about artisanal knives and see the world's largest knife.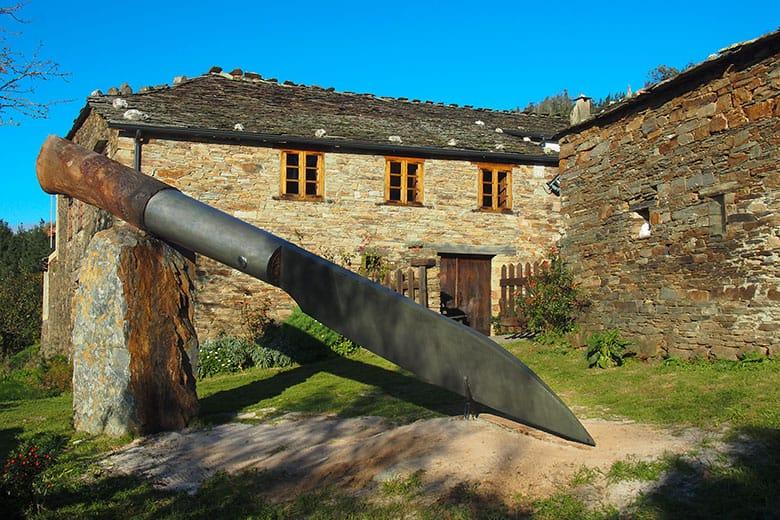 In Los Oscos, there are two other excellent examples of highly interesting and interactive museums. First, there's the Ecomuseo del Pan in Santa Eufemia, Villanueva de Oscos, which showcases the complete cycle of bread making, from planting the cereal to baking, including harvesting, grinding, and kneading. It's a true delight to explore the origins of natural and healthy food.
On the other hand, the Marqués de Sargadelos Birthplace Museum, located in the municipality of Santa Eulalia de Oscos, specifically in Ferreirela de Baxo, is dedicated to the life and work of this merchant, industrialist, and enlightened figure who, in the late 18th century, built one of Spain's first cast iron and pottery factories in Sargadelos (Cervo, Lugo). An interesting note is that this museum organizes a multitude of workshops for both children and adults, especially during the summer.
Furthermore, this region is the ideal place to experience craftsmanship firsthand. Both in Taramundi and Los Oscos, there are various knife and blade workshops that can be visited.
Another deeply rooted craft in the area is weaving, and in Santalla, the capital of Santa Eulalia de Oscos, you can visit Irene's loom to see how this ancient textile tool is operated.
Artesanamente offers a wide range of workshops and courses for learning traditional crafts: beekeeping, blacksmithing, knife making, natural cosmetics, organic soap making, mushroom cultivation, craft beer brewing, cheese and bread making, or an introduction to the knowledge of medicinal plants, among other options. Meanwhile, the family-owned company Duxemiel offers bee products and invites you to explore the world of bees through Apitourism, a trendy activity in Los Oscos. This activity involves equipping yourself like a real beekeeper and then visiting the beehive area to see them up close, along with the surrounding environment. The activity concludes with a tasty tasting of hive products. It's a two-hour, fascinating activity in the village of Caraduxe, in Santa Eulalia de Oscos.
Obviously, by now, you will have realised that you are in a magical land, and if you feel like it, you can check it out in the río Eo. A flow of great natural beauty, environmental excellence and great possibilities for outdoor sports.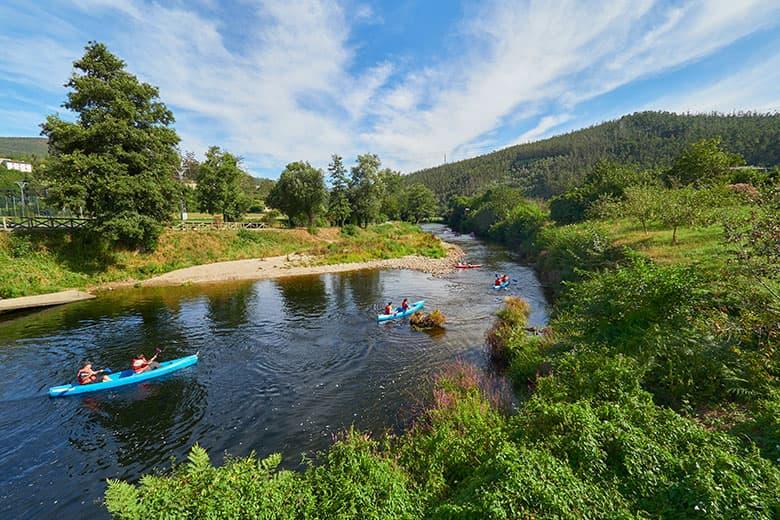 Canoeing down the Eo River, from San Tirso de Abres to Vegadeo or Castropol, will make you experience very different sensations in its various stretches.
It will be another way of getting closer to nature and getting to know the region from another point of view. A way of interpreting the landscape of this Biosphere Reserve, these descents will be another of your must-do's!
But if this weren't enough, you can also explore the landscapes of this land on horseback, with the company Equusfera.
As you will see, in this region, there is no time for boredom!