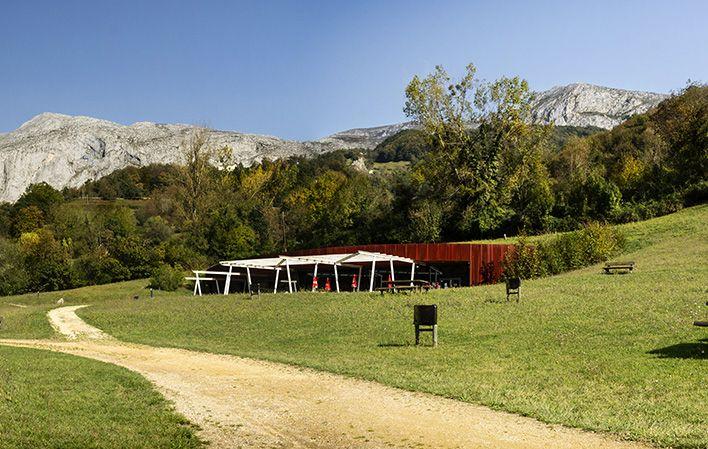 Teverga Prehistoric Park
Teverga

Asturias Centre

Address:

33111 San Salvador D' Alesga, s/n. Teverga

Phone:

902 306 600 / 985 764 739
The Prehistoric Park allows you to discover the most relevant examples of European cave art.
Info
The Prehistoric Park of Teverga is an original and unprecedented project in Europe, a place to learn about the past and understand the evolution of mankind, at the same time as discovering the origin of art.
We will be able to see artistic manifestations by means of facsimile reproductions of significant parietal groups and objects of movable art.
Cave of Caves: for the first time in a single cave: Altamira, Covalanas, Lascaux, Niaux, Chauvet, Tito Bustillo, Candamo, Covaciella and Llonín.
Discover the emotion of contemplating the paintings in a natural setting, just as the original paintings and engravings were found.
You will experience prehistory in a different way, in a unique setting, where nature and culture come together to offer you a new way of enjoying the legacy that man and the Earth have left us.
Travel back in time and discover how ancient man lived. Get to know their art, the motifs they depicted, the techniques they used... Faithful reproductions of cave paintings, objects and prehistoric utensils recovered.
Accessible at
Map
Teverga Prehistoric Park
GPS:
+43.137829, -6.07588
Schedules and prices
February, November and December:
Wednesday to Friday: 10:00 to 14:30 h.
Saturdays, Sundays and public holidays: 10:30 to 18:00 h.
Closed: Monday, Tuesday, 24th, 25th, 25th, 31st December and January.
March to June, September and October:
Wednesday to Friday: 10:00 to 17:00 h.
Saturdays, Sundays and public holidays: 10:30 am to 6:30 pm.
Closed: Monday and Tuesday
July and August:
10:30 a.m. to 7:00 p.m.
General admission: 6,08 €.
Reduced: €3.62 (groups of more than 20 people, children between 4 and 11 years old, over 65s, large families and people with accredited functional diversity).
Free: 0 to 3 years old
Educational workshops: 2,00 €.
Other discounts on request.