If you go to Asturias for the first time, without having read anything about it or without any other frame of reference, you'll immediately have two very rousing sensations: it's a place with a lot of history and traditions, and a people with a singular and good-natured character.

Cuadonga/Covadonga Basilica (Cangas de Onís).
It was a kingdom more than a thousand years ago...
Parque del Príncipe (Cuadonga/Covadonga).
More than a thousand years ago, amid high limestone peaks, green mountains, lush forests, flowing rivers, lakes, fountains, waterfalls, fruit trees, reeds, immense prairie…a kingdom emerged that had twelve kings, the first being Pelayo, who's memory is especially honoured at the Real Sitio de Covadonga in Cangas de Onís. The last was Alfonso III, nicknamed El Magno, and in between, and for almost one hundred and fifty years, much history -including battles- that would shape the social and geographical evolution of the Iberian Peninsula and in what is now Spain. Asturias was the first Christian kingdom of this European peninsula, and we still have many vestiges of that ancient Kingdom today -among the most noteworthy is Asturian Art or Pre-Romanesque Art, declared a World Cultural Heritage by UNESCO- and also many vestiges of the nobility and the lineage that runs through the bowels of this land, which since the 14th century has also been the principality most closely linked to the Spanish Monarchy from those remote times up until the present.

San Salvador de Priesca (Villaviciosa)
Uniqueness in one destination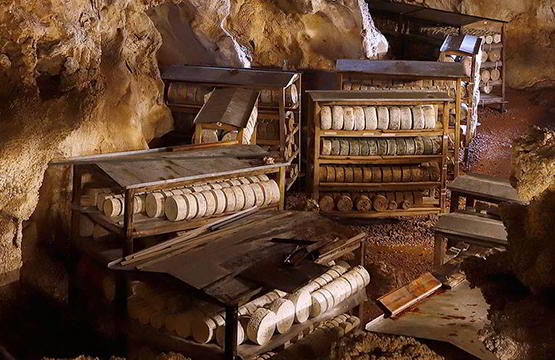 Gamonéu cheese cave.
Asturias has never lost its essence, its identity, the wealth of its past, its immense historical and prehistoric legacy -it has five prehistoric caves declared World Heritage Sites by UNESCO- and its heritage and tradition coexist in harmony with a dynamic present, in a region where one can enjoy, among many other pleasures, a unique gastronomy, the most easily distinguishable in the Spanish context being fabada, cheeses and cider.
If you're open to an immersive experience of culture and traditions, Asturias is a mosaic of sensations, emotions and encounters of all kinds, and in an environment marked by a temperate and lush climate with gentle temperatures all year round.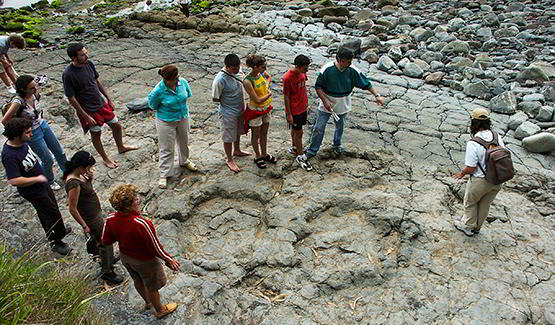 Jurassic footprints (Playa de la Griega).
Fly like an eagle in a paraglider over vast fortifications and necropoli, swim like an otter descending rivers full of gold, cruise like a salmon through the places that gave birth to the Kingdom of Asturias, surf on beaches with Jurassic footprints or sail on a wind like the one that took Christopher Columbus himself to America... everything is possible in Asturias, even dreams.
This ancient kingdom, today a principality full of surprises, stories, legends, mythological beings, and traditions, caresses the minds and imaginations of travellers...
The first Princess of Asturias born in Oviedo and the first Asturian Queen of Spain
Campoamor Theatre (Oviedo/Uviéu).
A reality which is of great importance today, was the marriage of the present King Felipe VI, Prince of Asturias and heir to the Spanish throne to an Asturian from Oviedo/Uviéu, Letizia Ortiz. This love story came to reinforce the deep union between the Crown and this ancient principality, which previously, and in the last decades of the 20th century, further bound its name to that of the Spanish Royal Family, and in a universal way, through those who today are the Crown Princess of Asturias and the born Crown Prince of Asturias. Prestigious trophies bearing the name of Asturias throughout the globe.
From Catalina de Lancaster -first princess of Asturias- to Dª Letizia - first princess of Asturias born in Oviedo/Uviéu and the first Asturian queen of Spain- more than six centuries of history have passed, and Asturias remains equally pure, natural, fascinating. While gazing upon its unspoiled landscapes and ancient palaces, its noble 'casas de indianos', the historical quarters of its villages and cities, time seems to stand still. Walking the Camino de Santiago, you can imagine what it would have been like to be the first monarch to do so, an Asturian king with his court in Oviedo/Uviéu, crowned Alfonso II and nicknamed El Casto.
Fundación Archivo de Indianos (Colombres).