There is so much on offer in the central area of the region, that it is impossible not to become enthralled.
Lovers of the sea and the stories of sailors, of the ports whose steep lanes are worth getting lost in, are in luck if they choose to fall in love with the sea from Peñas Cape; to discover the charm of the town of El Castillo's pier in Soto del Barco, to snack on some sardines in the seafaring village of Candás or discover the history of seamanship and the sea in the Maritime Museum of Lluanco/Luanco.
A lot of sea, a lot of ports but also many beaches for all tastes and, at the same time, very close to the pilgrim land, of corners inhabited by bears, or mountains and forests where rivers call out to travellers with their song of waterfalls.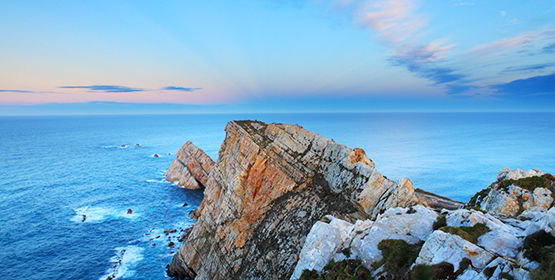 Peñas Cape (Gozón).
The Bear's Trail, in addition to being a cycling route, leads us to wildly beautiful municipalities such as Santo Adriano, Proaza, Quirós or Teverga, where villages as beautiful as Bermiego or Banduxo await us. The Bear´s Trail also offer us beech forests (Montegrande), mills along the river (Corroriu) or reservoirs (Valdemurio), where in silent contemplation of its still waters it's a treat to eat or rest after a day of walking through nature.
Tower of the Vázquez de Prada (Proaza).
After discovering central Asturias, you'll want to come back time and again. Tasting the strawberries from Candamo, going to the market of Grau/Grado on Sunday or being awed by the beauty of the Cuevellagar port in Yernes y Tameza will make you eager to return to central Asturias. Not to mention how Somiedo, also land of bears, teitos (traditional thatched huts used by sheperds), lakes and spectacular high mountain meadows that you can never finish discovering will make you feel.
The history of Asturias and its people fill the air in the basins of the Nalón and Caudal Rivers, while having scenery and nature for all tastes, it also offers visitors its industrial archaeological heritage and mining history. For those interested, visits to the Bustiello Mining Village, the Mining Museum, the Industry Museum, the Sotón Pit or the Samuño Valley Ecomuseum are essential.
But this is only some of what central Asturias has to offer. Once-in-a-lifetime moments like discovering the Xurbeo Waterfall in Aller, the Pre-Romanesque church of Santa Cristina de Lena in Lena, or climbing the Angliru in Riosa, where cycling history was made. Last, but not least, the Redes Nature Reserve, where the Sobrescobio and Caso municipalities compete in scenic wealth and leisure offerings. This area also produces one of the Principality's gastronomic jewels, the Casin Cheese.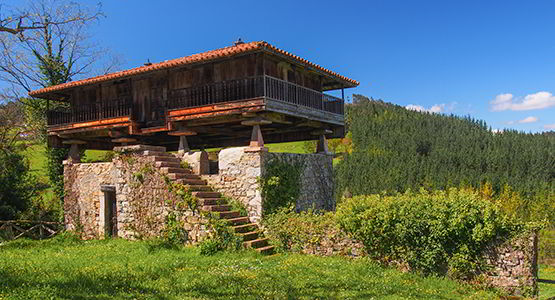 San Tisu (Candamo).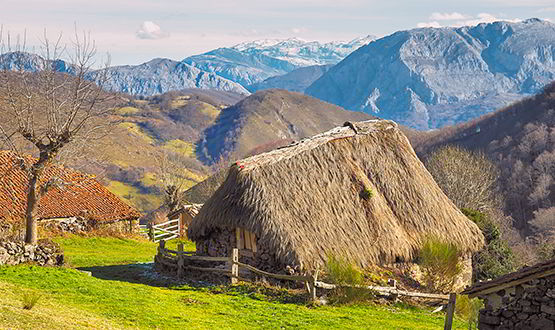 Braña de Tuiza (Teverga).