We are an omnivorous region, this is obvious, but we are passionate about meat. We have two special animals, beef and pork. Where do you want to start?
If we start with size, the cow wins. And in quantity as well, since there are over 300,000 heads of bovine livestock in the region. There are milk cows but nowadays cows for meat are in the majority. A good number of them are protected by the IGP Ternera Asturiana, and they are used for many more things than just making cachopos. The recipe book is very full, from cheeks soaked in Cangas wine to beef stew with potatoes.
Two breeds dominate, the Asturian of the valleys and the Asturian of the mountains. Both produce a very tender, juicy and unique meat.
But we also have more indigenous breeds of other animals. If you go to any town, as well as the plump "pitos de caleya", you can also find the "pita pinta", a lively chicken with feathers of two different colours which is becoming fashionable in some restaurants. It has a double use, because it produces good meat and eggs in abundant quantity. And if you look at the mountains you can try to distinguish an "oveya xalda" which allows for the creation of some fantastic stews.
The other great emblem of the region, which is the raw material of chorizo and black pudding, is the pig, which we also have an indigenous version of, the "gochu asturcelta". It started to play a main role after overcoming the period when it was at risk of extinction.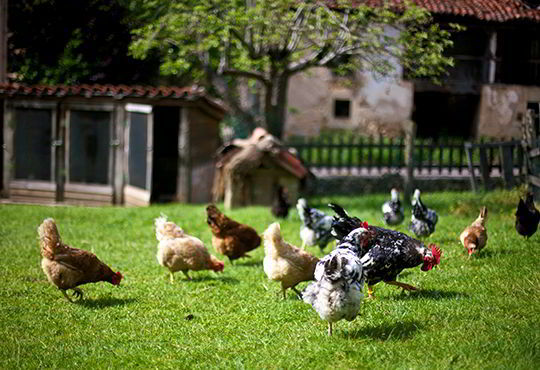 Its meat has a very interesting interspersed fat, which gives it a strong flavour.
If you have never eaten a cachopo, you are among the cowards because they say that eating these breaded fillets of enormous size is for the strong. It's not a big deal, don't worry. It is a dish that traditionally is usually shared, although it is nonetheless true that smaller, individual cachopos are starting to proliferate, which it is advisable to ask about so as not to get any frights. A 'señor cachopo' must have two fillets of Asturian beef, preferably in the area of the thigh, round or bottom sirloin, Serrano or Iberian ham and some slices of a not very strong Asturian cheese (cheese from Oscos or Vidiago is ideal). It is coated in flour, egg and breadcrumbs, fried and... voilà! Cachopo is served. Some tips are that the oil should be very hot and clean, without the aromas of other foods, and the fillets shouldn't be cooked too long so that they stay pink inside.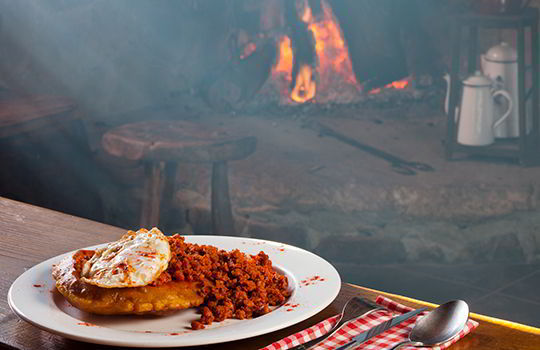 With pigs we make so many things, so many in fact that we don't have enough pages to list them all so to be concise, we make chosco (cured smoked meat), picadillo (minces meat), ausage (Avilés type), moscancia (similar to black pudding but with cow or lamb fat), sabadiego (chorizo with a heart of black pudding whose heartland is Noreña), emberzao (a variation of the black pudding that is mixed with cornflour and wrapped in cabbage), butiellu (rib meat with cured bones), andoya (made with whole or top loin), xuan (black pudding with pumpkin) and we could continue with the fariñón de Candás, pantruqe, probe, bolla, boronchu... you won't go hungry here.
Asturian beef and Chosco de Tineo Quality guarantee
Ternera Asturiana Protected Geographical Indication, which has just reached 17 years old, has managed to give its quality stamp an admirable prestige. Its meat is demanded in the best butchers in the main cities of the country. To be an authentic Asturian meat, it has to be born in the region, belong to the club of the chosen breeds, whether Asturian of the Valleys or Asturian of the mountains, be between 12 and 18 months old, have very specific morphological characteristics and be tremendously tasty, because the great virtue of this meat is its texture and its tenderness. They are young cows, with little fat but therefore very healthy.
The Chosco de Tineo is our best kept secret, a product derived from pork that contains at least 15% of the tongue and much of the head. It can be eaten fresh or cooked, always marinated in chilli pepper.