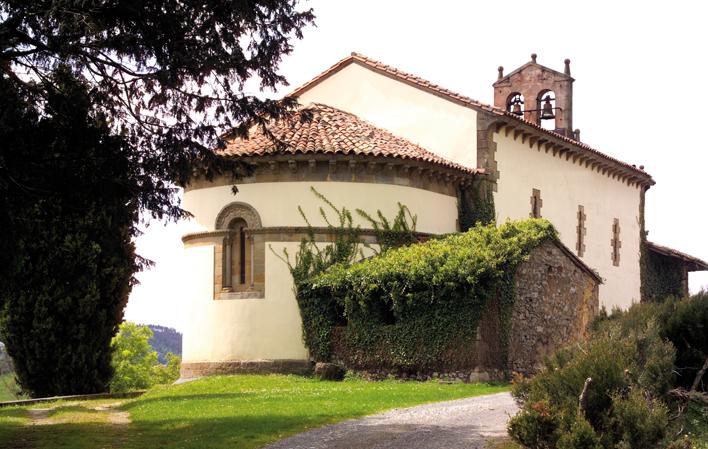 Church of Santa María de Narzana
Sariego

Eastern Asturias

Address:

33518 Narzana

Locality:

Villar

Phone:

985 748 130

Period:

Romanesque

Management:

Ecclesiastical
Romanesque church dating from the late 12th century.
Info
The Church of Narzana is located in the concil of Sariego, in eastern Asturias. Built in the late 12th century, it consists of a single rectangular nave and semi-circular apse preceded by a straight section. The triumphal arch is pointed, with two archivolts with zigzag and five-petalled decoration. These rest on three columns on each side, with capitals having plant and zoo- and anthropomorphic motifs.
The nave has an open wooden framework ceiling and the apse, a cul-de-four dome. The interior is illuminated by three small loopholes that splay inwards, topped by small semi-circular arches and symmetrically distributed along the north and south walls.
The apse is decorated with a chequered cornice, corbels with different decorative motifs (beads, coils, anthropomorphic and zoomorphic figures) and five-petalled metopes. Halfway up the wall there is an impost with floral motifs. In the centre of the apse there is a window topped by a semi-circular arch in zig-zag resting on two columns with capitals ornamented with plant motifs, while a band of peaks runs around its base.
The west-facing portal consists of three semi-circular archivolts with floral and zig-zag decoration, with two columns on each side, whose capitals present figurative and plant motifs. It is covered by a tiled roof with metopes and corbels with figurative and plant motifs.
The church suffered a fire in 1936. It was restored by Luis Menéndez-Pidal y Álvarez around 1960.
Map
Church of Santa María de Narzana