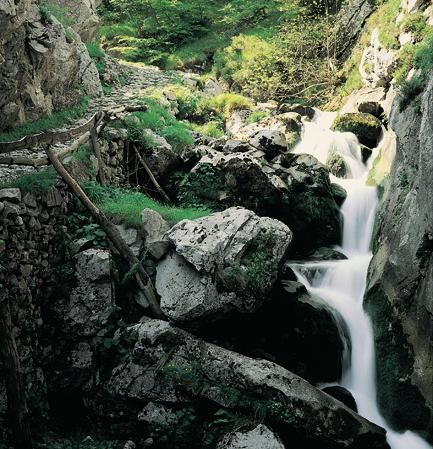 El Pino Gorge
Aller

Central Asturias

Extension:

km 2
This narrow limestone gorge has been declared a Natural Monument.
Info
El Pino Gorge is a narrow gorge formed by the River Pino in its middle section, where the rocky limestone strip of Redonda Crag is carved by the river, forming sheer walls, with the width of the gorge sometimes not exceeding 6 metres. The river running below is broken by numerous rapids and waterfalls.
On the way up, there are meadows and chestnut plantations. As you ascend, beech and oak appear, although few species of trees manage to survive on the sheer walls of the gorge, apart from the yew and terebrinth (turpentine tree), which grows in the cracks in the rock.
Map
El Pino Gorge
GPS:
+43.095218,-5.519042
Location
El Pino Gorge lies in the borough of Aller, near the village of El Pino.