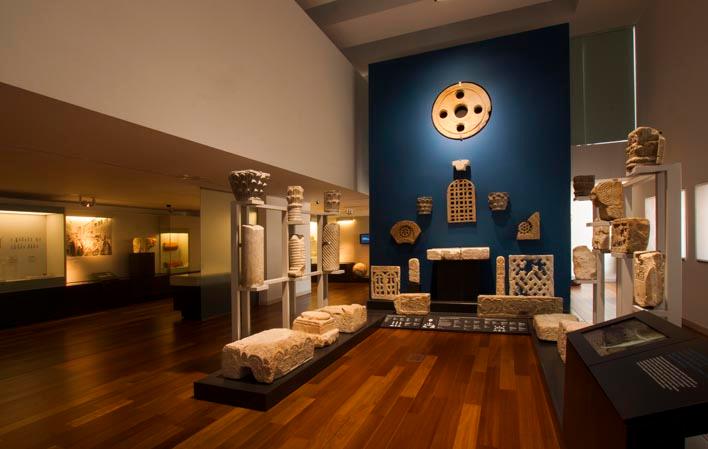 The Archaeological Museum of Asturias
Oviedo

Central Asturias

Address:

C/ San Vicente, 5. 33003 Oviedo/Uviéu

Phone:

985 208 977

Documents:

Ficha de accesibilidad
A centre of reference for the study and promotion of Asturian archaeology
Info
The Archaeological Museum of Asturias is housed in the former Benedictine Monastery of San Vicente, dating from the 16th century, a building closely linked to the history of Oviedo/Uviéu, in which Friar Benito Feijóo (1676-1764) lived and wrote all his works.
Through its permanent collection, the museum offers a reading of history in the light of recent archaeological discoveries in the region. The new centre has sought scientific and museographic rigour through the reassessment of many original objects interpreted in their geo-historical context.
The exhibition is housed on three floors of the building, displaying the major cultural periods from Prehistory to the dawn of the Modern Age. The thread of historical sequence is completed with a specific section devoted to the history of the formation of the museum, which, in the case of Asturias, runs parallel to the beginnings of scientific archaeology in the region. The visit includes a room given over to the dissemination of Asturian legacies declared World Heritage Sites, such as the prehistoric caves with rock art and the monuments dating from the Kingdom of Asturias.
The permanent exhibition uses various interactive and other, traditional elements like 3D models, drawings with technical details and others with reconstructions, maps and audio-visual projections that expand on the textual introduction to each section.
Built in:
1952
Map
The Archaeological Museum of Asturias
Schedules and prices
Wednesday to Friday: 9:30am-8:00pm
Saturday: 9:30am-2:00pm and 5:00pm-8:00pm
Sunday and holidays: 9:30am-3:00pm
Closed on Monday and Tuesday.
Free