Our active tourism companies design their activities fully respecting the natural surroundings at all times, aware that it is the setting and the main resource on which the activities are carried out, enabling visitors to enjoy a circuit or a route, delving into forests, mountains and coastlines; easily accessing areas that are difficult to get to and visiting areas that would be impossible to cover in a single day. In short, they make nature accessible to everyone.
4x4 vehicles. Covadonga Lakes (Cangas de Onís)
Motorised activities will enable you to discover major landscapes, thanks to regulated 4x4 vehicles, buggies, segways or quads, across areas designed for these. With utmost respect for our natural surroundings at all times.
The Off-Road Adventure Family Park circuit, in Ría de Villaviciosa, where you can enjoy your favour motor sport in a responsible manner or take one of their 4x4 and motorcycle courses (off road and on road).
The Ribadesella coast by quad, buggie or segway. Following the trails marked by dinosaurs millions of years ago is not something you do every day...
A route along the coastline of Colunga by quad. Easy routes where you simply have to choose whether to spend 1 or 2 hours amid the iconic landscapes of the Cantabrian Sea and the Picos de Europa.
The Senda del Oso (Bear's Path) on a Segway. All the nature of our most famous Vía Verde (green-way) on wheels.
And talking of engines, why not visit the museum dedicated to the most famous Asturian driver: Fernando Alonso. His life and staggering professional career and around 270 unique pieces in the Fernando Alonso Collection Museum and Circuit in Llanera.
Princess of Asturias Rally
The Ciudad de Oviedo Princess of Asturias Rally is the oldest one within the Spanish Championship. With a calling card like this, you can imagine what the route and the participants can offer visitors. In 2019 it reached no less than its 56th edition, which is testament to the prestige of this motorsport event which is of immense tourism and sporting interest. The Rally also includes Legend vehicles, classic vehicles that took part over 30 years ago.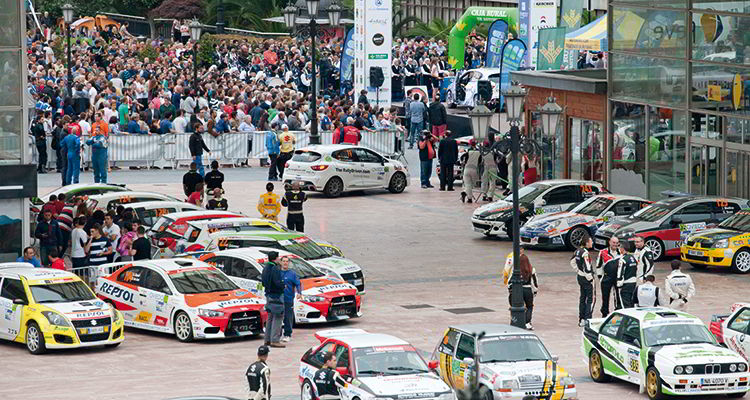 Ciudad de Oviedo Princess of Asturias Rally.
With the added value of the service of a guide, you simply have to choose the activity that best suits your preferences: buggies and quads provide adrenalin and Segways provide fun and exciting experiences, while 4x4 vehicles provide a more leisurely way for visitors to enjoy the landscapes and other natural and cultural resources of the region. Guided and interpreted hiking to resolve any logistical inconveniences on very long hiking routes.
Routes in motor vehicles enable visitors to appreciate the vast natural resources of Asturias from a different perspective.
And for biking enthusiasts, discovering the Asturian landscapes on a motorbike only increases the feeling of freedom, breathing in the pure air of our natural surroundings, which is possible thanks to fabulous twowheeled touring routes.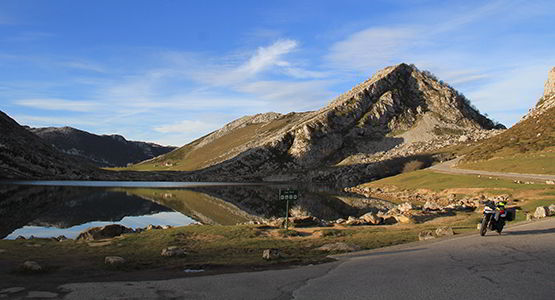 Lake Enol (Cangas de Onís)
Start up the engine and start rolling
We believe engines and the environment are not at odds with one another. And this is thanks to the best practices of the Asturian professionals and their motorsport services aimed at tourism, introducing the natural and cultural heritage of the Principality to visitors through environmentally-friendly activities across unforgettable routes, scenic viewpoints opening onto Paradise, visits to villages bursting with charm from the very start... Start up the engine and get rolling! Either freely or even better, via organised and guided routes.
El Fitu Viewpoint.
Buggies.
Touring motorcycles.
Quads.
Segway.
4x4 vehicles.
Segway.