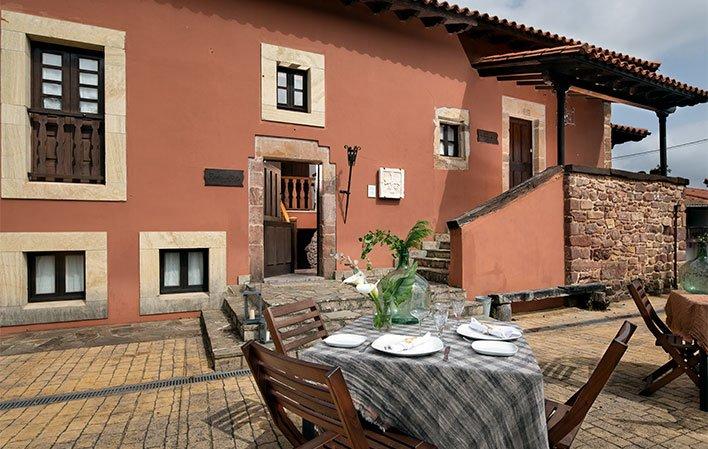 La Corte de Lugás
Hotels

4

Bed places:

27

Rooms:

14
Villaviciosa

Oriente de Asturias

Phone:

+34 985 890 203

Email:

info@lacortedelugas.com

Closed:

01/01 - 13/02 y domingos a jueves del 15/10 a SS
Típica casona asturiana del siglo XVIII.
Info
Hotel rural situado en Caxide, muy cerca de Villaviciosa, en pleno valle de Lugás cerca de la costa. Casona asturiana de paredes de piedra y techos de madera reconvertida a hotel de 4 estrellas.
Cuenta con 10 habitaciones completamente equipadas con aparcamiento y wifi incluido; y 4 villas de lujo con jacuzzi y chimenea. Todo ello, dentro de una típica Casona Asturiana del siglo XVII con muros de piedra y techumbres de madera, perfecto para desconectar y relajarse en plena naturaleza.
Dentro del hotel se encuentra un restaurante especializado en la cocina tradicional asturiana y a solo 5 Km. está el Club de Golf de Villaviciosa. Cerca se pueden realizar la Ruta de Peña Cabrera y la Ruta de los Molinos, la Costa de los Dinosaurios y las playas de Rodiles, España y La Ñora.

Services and amenities
Common amenities and services
• Fireplace
• Heating
• Parking
• Internet access
• WiFi
• Air conditioning
• Meeting room
• Laundry service
• Reception service
• Room service
• Safe deposit box
Room services
• Safe
• Heating
• Jacuzzi
• Air conditioning
• Telephone
• TV
• Cot available
• Hair dryer
• Internet
• WiFi
Complementary services
• Pets allowed
• Garden
• Café
• Restaurant
• Credit cards accepted

If you travel with your pet you should know that...
No cobramos suplemento por mascota.
No hay limitación de tamaño/peso.
Se admiten P.P.P.
Las mascotas no pueden quedar solas en la habitación.
Las mascotas pueden acceder a las zonas comunes.
Máximo una mascota por reserva.
Facilitamos cama/alfombra y comedero/bebedero para la mascota.
Admitimos otras mascotas además de perros.
No tenemos guardería canina.
Rates
Alojamiento y desayuno
Desde 79 € hasta 129 €
Closed:

01/01 - 13/02 y domingos a jueves del 15/10 a SS
Seasons
High season:
01/08 - 31/08 y P
Mid season:
01/07 - 31/07 y 01/09 - 30/09
Low season:
Resto del año
If you travel with your pet you should know that...
Pet Supplement Payment:

No

Pet size/weight limitation:

No limitation

P.P.P - Potentially Dangerous Dogs allowed:

Yes

Dogs are allowed to be left alone in the room:

No

Maximum number of dogs per booking:

1

Pet bed or mat available:

Yes

Pet feeder or drinking fountain available:

Yes

Access to common areas:

Yes

Pets other than dogs are allowed:

Yes

Dog day care available:

No
Map
La Corte de Lugás
GPS:
43.4538998,-5.427787
Information provided by :
H La Corte de Lugás.
Establishment registered with the Principality of Asturias Registry of Tourist Activities with DGT code
H1969.
Approximate rates.