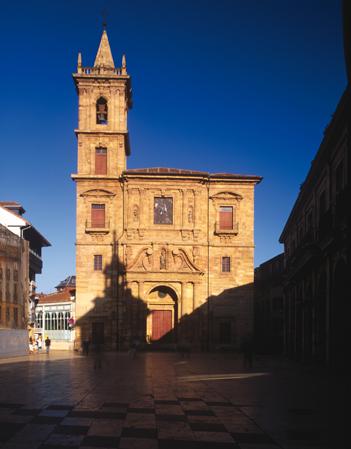 San Isidoro el Real
Oviedo

Central Asturias

Address:

Pza. de la Constitución. 33009 Oviedo

Locality:

Oviedo

Phone:

985 215 428

Period:

Baroque (16th Century)

Management:

Ecclesiastical
The church is located near the city hall in the old quarter of Oviedo.
Info
This church, formerly the Church of San Matías, was part of the college of San Matías built in the 16th century. The complex was also formed by the old schools (currently housing the British Institute) and a residence demolished in 1879 to build the meat market. Construction work began in 1578 with money bequeathed in the will of Doña Magdalena de Ulloa to create a Jesuit school, and was completed in 1681. In 1770, following the expulsion of the Jesuits, it became the present parish Church of San Isidoro.
The church, Baroque in style, is rectangular in shape with a single nave formed by four bays with interconnecting side chapels, a straight transept of great height intended to bear the dome and a square apse with two side vestries.
The bays of the nave are separated by pilasters and covered with barrel vaulting with lunettes, as are the side chapels and wings of the transept. The crossing is covered by a dome on pendentives and the apse by a groin vault.
The ground floor and the design of the façade of the first floor might be attributable to Juan de Tolosa.
The façade is divided into three parts; the centre houses the main entrance framed by half-columns, entablature and pediment.