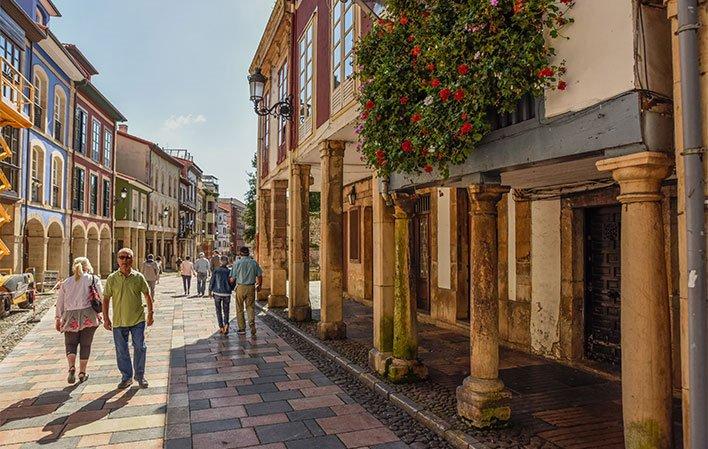 Avilés
Avilés Region

Asturias Centre

Address:

Ruíz Gómez, 21 bajo. 33400 Avilés, Avilés

Phone:

985 544 325

Email:

turismo@aviles.es

Street map:

Download
Cosmopolitan, seafaring, medieval, dynamic and metropolitan, this is the city of Avilés and its surroundings.
Info
A council and a commercial, cosmopolitan, dynamic, metropolitan city with medieval origins and a great seafaring tradition, we are talking about Avilés.
The town and capital of the municipality has a historic quarter dotted with palaces, gardens, fountains, churches, arcaded houses, etc. that give it a unique atmosphere. The size and proportions of its estuary, and its passage through the very heart of the city, make Avilés the only city in Asturias with a powerful river flow at the foot of its historic quarter, one of the best preserved in the whole of northern Spain.
Land of discoverers such as Pedro Menéndez de Avilés - conqueror of Florida in the American continent -, it is a city and a council open to innovation and with an artistic vocation. Moreover, contemporary Avilés also experienced a great industrial revolution thanks to the iron and steel industry, which has marked a post-industrial 'physiognomy' that inspired the architectural genius Oscar Niemeyer to create the last of his great international works, a cultural centre that bears his name and is a symbol of the urban and sociological renovation that the area is undergoing.
Here are the top 10 things to see and do in Avilés.
Population: 83,107 inhabitants
Surface area: 26.81 26.81 km2
Weekly market: Monday
Map
Avilés
GPS:
43.5579523,-5.9246653
What to see
Town Hall Square and Ferrera Palace Gardens.
Galiana Street.
Calle de la Cámara and Mercado de Abastos.
Guided tours of the historic centre of Avilés.
Information and bookings: Tourist Office, C/ Ruíz Gómez, 21
Tel. 985 544 325 - e-mail: turismo@aviles.es