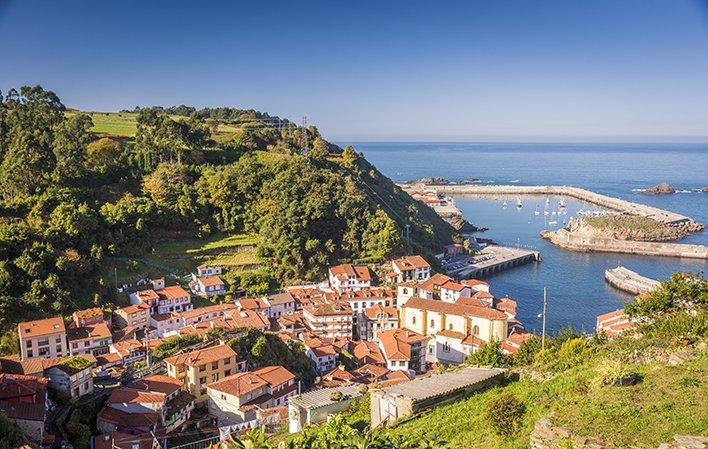 Indian houses, palaces and gardens, amphitheatre, port and dreamy, unspoilt beaches, the 'pixueto' language, the 'curadillo'... land and sea, fishing and livestock, Indianos, seafood stews. An eclectic and surprising life. This is Cudillero
Info
The amphitheatre of its capital, Cudillero, is one of the most famous, admired and photographed of the fishing villages of northern Spain, and a clear exponent of the seafaring origins and fishing tradition of this remote village, as if hidden in a natural shelter, also known as Villa Pixueta, in allusion to the unique socio-linguistic slang that has always served to communicate this unique community.
A stroll through the village is a must: monuments, fishermen's houses where they hang the typical 'curadillos' - fish, usually small sharks, dehydrated in the air (a primitive form of preservation), which are a unique and very typical delicacy -, shops, the lighthouse, the port, an aperitif or a seafood meal?And as a complement, a stroll around the council takes us to unique paradises such as the beaches of Silencio, Gueirúa, Concha de Artedo, San Pedro de la Ribera, and the unequalled panoramic views of Cape Vidio, one of the great promontories and cliffs of the Asturian coast.
Although it is not only the beaches that are charming in Cudillero; a visit to the Faedo Valley, or a more cultural visit to the Selgas Palace in El Pito gives us an idea of the natural and cultural wealth of this council.
Population: 5,691 inhabitants.
Surface area: 100.8 km2
Weekly market: Friday (Cudillero), Tuesday (San Martín de Luiña and the first Saturday of each month (Soto de Luiña).
Map
Cudillero
GPS:
43.5600016,-6.148421