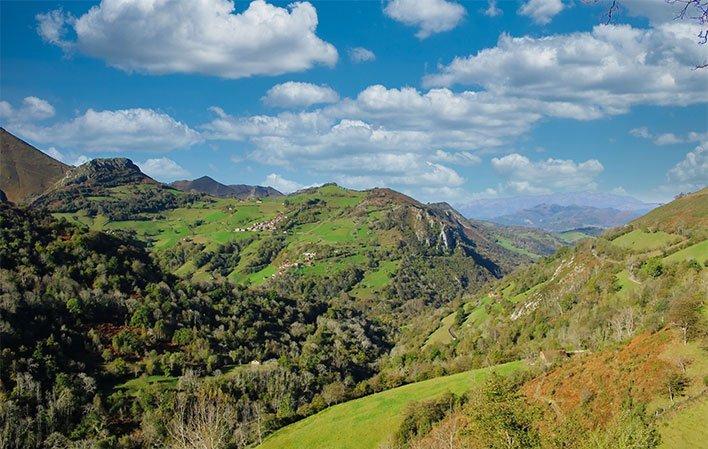 Onís
Eastern Asturias

Address:

La Plaza, 1. 33556 Benia, Benia

Phone:

985 844 005 / 985 844 272

Email:

info@concejodeonis.com
Gamonéu cheese and its festival, the Cornión massif, the Belbín sheepfold, emblematic villages such as Demués or Gamonéu, first-class gastronomy and abundant and noble examples of Asturian architecture... This is Onís, a high altitude territory.
Info
Onís is in the heights, bearing in mind that its territory belongs to the Picos de Europa National Park and that one of its orographic characteristics and tourist attractions is its altitude. Most of its most emblematic villages, such as Demués, Gamonéu, Boviarriba or Boviabaxu are in the highlands, and if there is one cultural and gastronomic note that distinguishes the municipality, it is that its capital, Benia, becomes the great reference point for Gamonéu cheese - one of the most highly valued cheeses in Picos de Europa - with the festival that takes place every year at the end of October.
The natural beauty of this municipality is undeniable and for this reason it is an ideal area for hiking and nature activities in general, a nature that shows all its splendour in places such as the Cuevona de Avín or the La Peruyal cave, in unusual beautiful sheepfolds such as that of Belbín - which looks like something out of a fairy tale -, or in the imposing limestone mass of Cornión...
If it is a question of palaces, main houses, village houses, medieval towers and other architectural jewels, Onís treasures an important heritage, in places such as Benia, Talaveru, Villar or Sirviella, where its medieval tower from the 16th century stands out...
Population: 786 inhabitants.
Surface area: 75.42 km2
What to see
Benia and its Gamonéu cheese festival.
The Cuevona de Avín and the Cave of La Peruyal.
The sheepfold of Belbín.
The villages of Onís (Demués, Gamonéu, Sirviella, etc.).