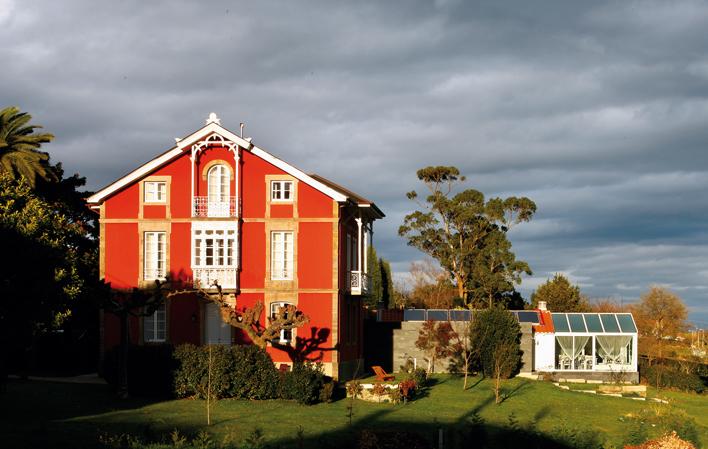 Casa Roja
Hotel Rural

3

Bed places:

17 (includes

6

extra beds)

Rooms:

7
Valdés

Occidente de Asturias

Address:

Carretera de la Playa

■ - 33788. Cadavéu

Phone:

+34 985 645 768 / +34 665 604 663

Email:

casarojarural@hotmail.com

Site:

www.hotelcasaroja.com

Closed:

15/10 a 30/05, excepto P, F y grupos 6 pax
La Casa Roja es una casona de arquitectura indiana, construida en el año 1899 situada en la villa costera de Cadavéu.
Info
Está situado a 80 km de Oviedo/Uviéu y 75 km de Gijón/Xixón; a mitad de camino entre las villas marineras de Ḷḷuarca y Cudillero, aproximadamente a unos 15 minutos de ambas, y muy próximo a la playa; a un campo de golf de 8 hoyos y a unos 10 minutos del río Esva con sus cotos salmoneros.
Services and amenities
Common amenities and services
• Fireplace
• Heating
• Parking
• Internet access
• WiFi
• Meeting room
• Laundry service
• Reception service
• Room service
• Safe deposit box
Room services
• Minibar
• Safe
• Heating
• TV
• Telephone
• Cot available
• Hair dryer
• Internet access
• WiFi
Complementary services
• Garden
• Café
• Restaurant
• Public transport
• Credit cards accepted
If you travel with your pet you should know that...
Es imprescindible que nos consultes previamente si vas a venir acompañado por tu mascota.
Cobramos suplemento por mascota.
No se admiten P.P.P.
No facilitamos cama/alfombra para la mascota.
Sí facilitamos comedero/bebedero para la mascota.
Admitimos otras mascotas que no sean perros.
Rates
Alojamiento: Desde 50,80 € hasta 60,90 €
Desayuno: 6,5 € - 8 €
Closed:

15/10 a 30/05, excepto P, F y grupos 6 pax
Seasons
High season:
15/07 - 31/08, SS y N
Low season:
Resto del año
Map
Casa Roja
GPS:
43.5465924,-6.3865408
Information provided by :
HR Casa Roja.
Establishment registered with the Principality of Asturias Registry of Tourist Activities with DGT code
HR2124.
Approximate rates.