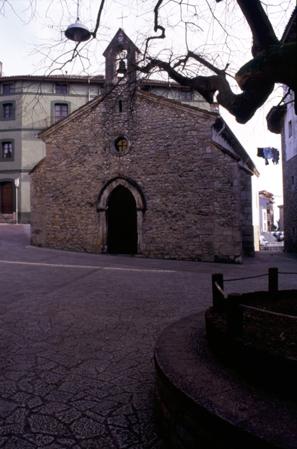 Chapel of La Magdalena (Llanes)
Llanes

Eastern Asturias

Locality:

Llanes

Management:

Ecclesiastical
A chapel located in Plaza de la Magdalena, in the old quarter of Llanes, whose dedication inspires the festivities of Mary Magdalene held in Llanes during the summer.
Info
Raised over an older building dating from the 13th century, the Chapel of Mary Magdalene is in the old quarter of Llanes, and is one of the religious and festive summer references in the seaside town, where the local people celebrate the feast of Mary Magdalene in July with a "joguera", the only one which is "danced" in eastern Asturias.
This striking, ancestral rite consists in the young village men dressing in traditional costumes to carry a huge tree trunk (joguera) while dancing from side to side of the street, surrounded by thousands of people.
La Magdalena is one of the three religious guilds in Llanes, along with San Roque and La Guía.
Map
Chapel of La Magdalena (Llanes)