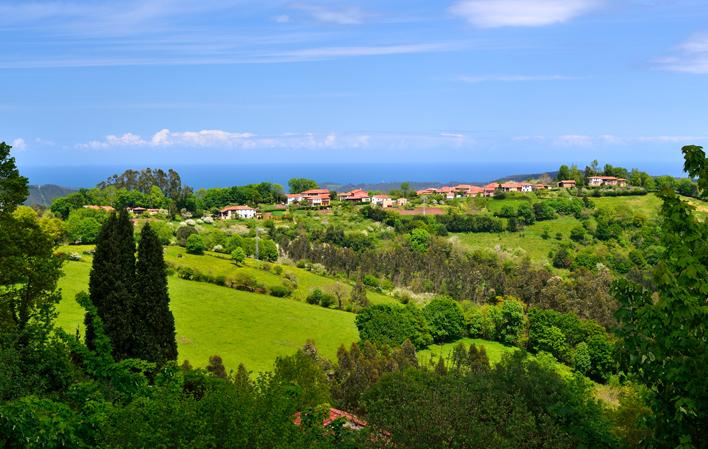 Villaviciosa
Comarca de la Sidra

Address:

Casa de los Hevia. C/ Agua, 29 - 33300 Villaviciosa, Villaviciosa

Phone:

985 891 759

Document:

Callejero_Villaviciosa.pdf
Apple orchards and cider, orchard and sea, Rodiles and Tazones, Romanesque in Amandi and Pre-Romanesque in Valdediós, the old quarter of Villaviciosa, surfing, fishing and birds in the largest estuary in Asturias ... That's Villaviciosa, Apple Capital of Spain.
Info
The meaning of its name is linked to the concept of fertility, and this borough truly honours the etymology of its name. A fertile land, watered by Asturias' largest estuary, Villaviciosa is a borough dotted with apple orchards, which it honours every two years at its Apple Festival, a listed Regional Tourist Interest festivity. It is also a land of lush market gardens, fine white beans and tasty, quality cider. As far as the sea is concerned, the finest quality Bay of Biscay seafood and fish can be savoured in the historic harbour of Tazones, the same harbour where Emperor Carlos V disembarked to tread Spanish soil for the first time. The houses making up this typical fishing port seem to hang over the sea, lending it a romantic, hidden air.
The borough capital, Villaviciosa, home to one of the oldest Holy Week observances in Asturias, has a very pleasant old town, where you can see centuries-old mansions and houses, as well as, for example, the Romanesque Church of Santa María de la Oliva. The town has other interesting examples of Romanesque architecture, such as San Juan de Amandi and Santa Maria de Lugás, as well as Pre-Romanesque sites, such as San Salvador de Valdediós, with its awe-inspiring church and monastery. Outstanding among its natural beauties is the estuary, where bird-watching and biodiversity observation can be carried out. Here you can also practise all kinds of water sports from El Puntal Harbour and it is common to see canoeists training on account of the area's long-standing tradition and "school" in this sport. A tour of the river brings the visitor to the jetties of El Gaitero Cider Factory, one of the oldest in Asturias and one which can be visited just like many other cider mills (llagares) in the borough. Rodiles Beach - a surfing icon -, the village of Sietes with its old hórreos - raised granaries-cum-storehouses-, and the Way of St James are other attractions for tourists visiting this corner of the Cider Shire.
Population: 14,962 inhabitants

Area: 276.23 km2
Map
Villaviciosa
GPS:
43.4817214,-5.4355748
What to see
07/01 to 09/15: Shuttle bus to Rodiles Beach.
Old Quarters of Villaviciosa and Tazones.
Villaviciosa Estuary and Rodiles Beach.
San Salvador de Valdediós Monumental Site.
Jet Stone and River Profundu Hiking Trails.
Nautical info
Puerto deportivo de El Puntal
Número de amarres fijos: 140
Número de amarres transeuntes: 2
Máxima eslora recomendada: 15 m
Calado Bocana: 1 m en bajamar
Calado dársena: Cambia cada 6 h
Villaviciosa
Aplicación con información útil sobre el concejo de Villaviciosa