Back El Lacayo de Sestiello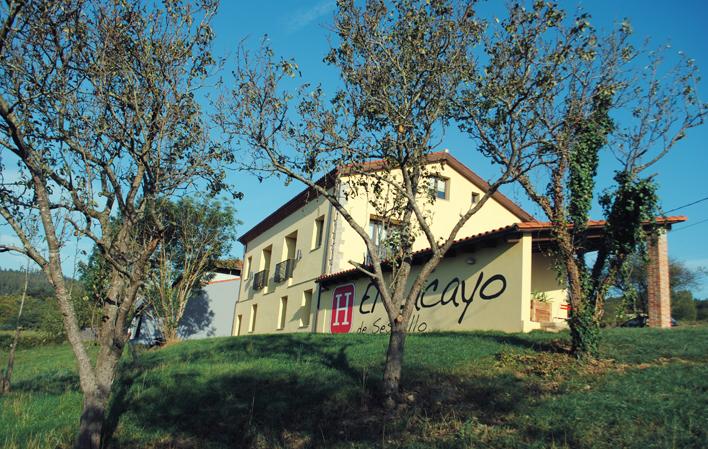 El Lacayo de Sestiello
Aparthotels

3

Bed places:

10

Rooms:

6

Apartments:

1

Sleeps:

1 apto. / 2 pax
Grado

Centro de Asturias

Address:

Sestiello, 1

■ 33820 - Sestiello

Phone:

985 753 566

Open all year round
Este hotel rural nace tras la rehabilitación del caserío de la familia García Suárez que data del siglo XVII.
Info
Convertido ahora en un hotel con encanto de decoración moderna y ecléctica que integra elementos del edificio original. El Lacayo de Sestiello es un lugar ideal para descansar, desconectar y disfrutar en calma. Todo a menos de 15 minutos de Oviedo.
Services and amenities
Common amenities and services
Heating
Parking
Lift
Internet access
WiFi
Meeting room
TV lounge
Reception service
Room services
Minibar
Safe
TV
Telephone
Internet
Complementary services
Pets allowed
Garden
Café
Restaurant
Credit cards accepted
Hair dryer
If you travel with your pet you should know that...
Cobramos suplemento por mascota.
No hay limitación de tamaño/peso.
Se admiten P.P.P.
Las mascotas pueden quedar solas en la habitación y acceder a las zonas comunes.
Máximo una mascota por reserva.
Facilitamos cama/alfombra y comedero/bebedero para la mascota.
Admitimos otras mascotas además de perros.
No tenemos guardería canina.
Rates
Alojamiento:
Desde 35 € hasta: 61 €
Tarifa apartamento:
Desde 55 € hasta 92 €
Sheets:

Sábanas no incluidas

Open all year round
Seasons
High season:
15/06 a 15/09 y SS
Map
El Lacayo de Sestiello
GPS:
43.3902728,-6.0508206
Information provided by :
HA El Lacayo de Sestiello.
Establishment registered with the Principality of Asturias Registry of Tourist Activities with DGT code
H2298.
Approximate rates.