In Asturias, monuments are not only those created by human imagination and effort, but also those that nature gives us at every step and which are listed as Natural Monuments. Singular and unique places that will make you aware of the importance of a nature that is cared for and in its purest state.
Son varias decenas los Monumentos Naturales declarados en Asturias. Reúnen playas, cascadas, cuevas, bosquetes y árboles singulares. Es decir, son sitios donde la naturaleza cobra un protagonismo especial, con algún elemento sobresaliente que la convierte en un espacio único, donde es posible exprimir al máximo la conexión con el medio.
Los Monumentos Naturales son todos aquellos elementos de la naturaleza que, por su notoria singularidad, rareza o belleza, merecen ser objeto de una protección especial. Asturias proporciona en sus paisajes formas y ecosistemas únicos, donde los bosques, los árboles o el agua en sus múltiples formas (playas y cascadas, sobre todo), ostentan un notable protagonismo.
Y es que el agua, en sus múltiples manifestaciones es clave para mantener y modelar los paisajes asturianos, esos que destacan por su verdor, por su frondosidad y por su pureza, con una flora y una fauna sin parangón.
No cabe duda que, desde un punto de vista estrictamente natural, no hay monumento más auténtico y llamativo que un bosque, los árboles centenarios y hasta milenarios que los pueblan, o algunas playas y cascadas que, por el ecosistema en el que se encuentran inmersas, se convierten en verdaderos Monumentos Naturales.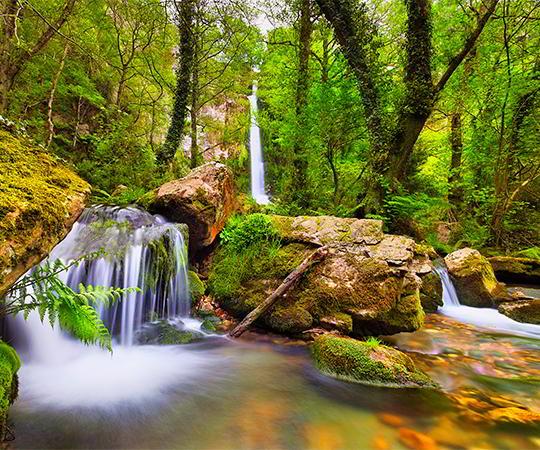 Natural Monument search engine